An overview of new functions on our portal
As a host you have a lot to do: you have to keep advertisements up to date, communicate with your guests, enter bookings in the occupancy calendar and much more. So you are grateful for any relief in your work. We, at Ferienhausmiete.de, always take suggestions from our landlords very seriously. Over the summer months, we have therefore implemented some new functions that should make your everyday life easier and save you valuable time.
1. add surcharge for short stays
NEW: Often you as a landlord do not only want to grant a price reduction from a certain number of overnight stays, but conversely also take a surcharge for shorter overnight stays. This request was often made to us and you now have the possibility to enter a surcharge for short stays under Prices > Basic settings.
2. add surcharge for children
NEW: From now on you have the possibility to distinguish between a price for adults and a price for children.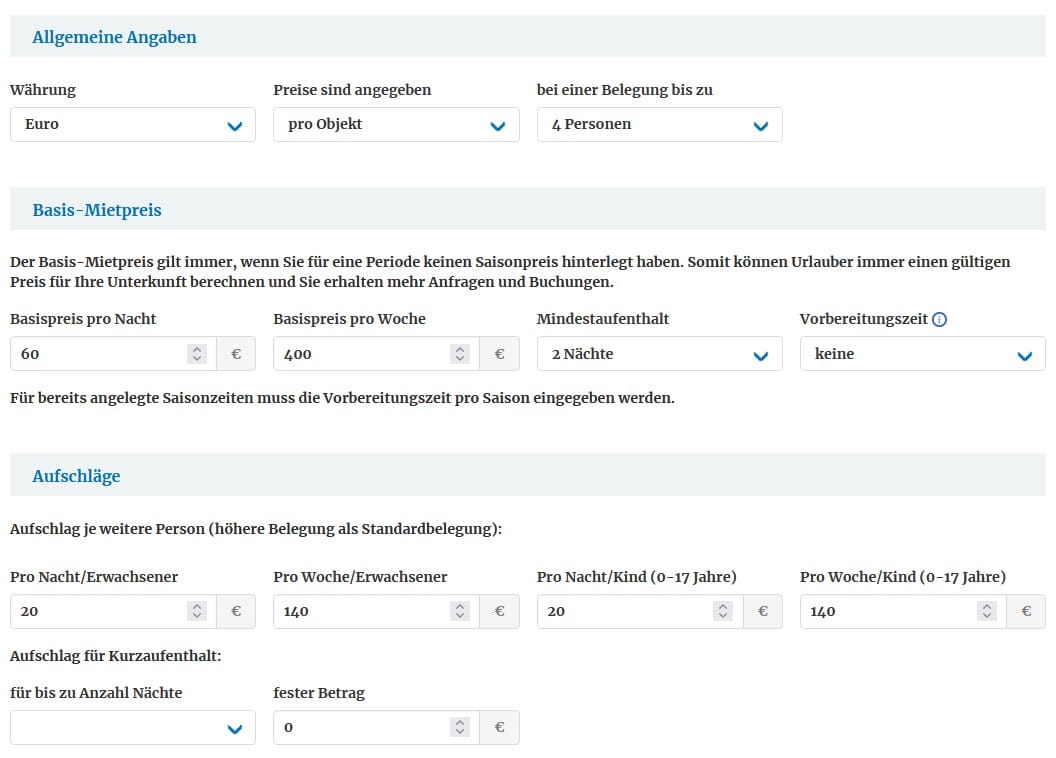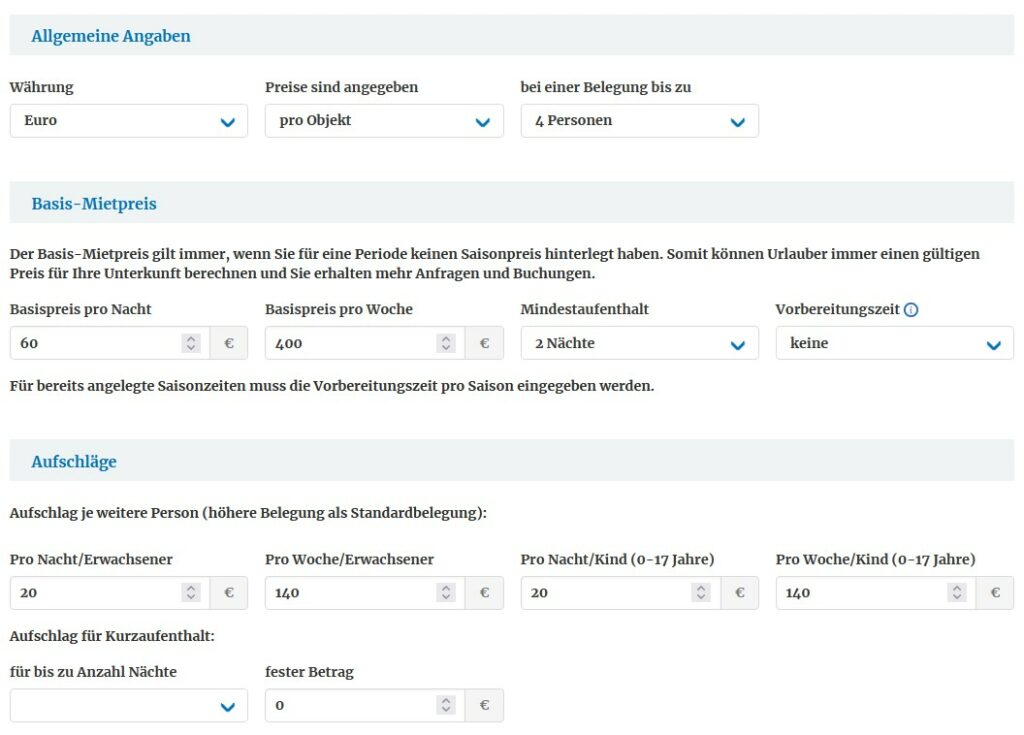 How to do: First, you decide how many people the basic rental price per object should apply to. You enter this under the tab "General information".
Under the tab "Surcharges" you now have the option to enter the additional costs for each additional person (optional) and to differentiate between a price for adults and children.
❗ Please note: IF you already had a surcharge, we have adopted this value for the child surcharge, as we did not differentiate before and the surcharge applied to both groups. If you now wish to charge less or none at all for children, please adjust this.
3. additional costs for pets included in the final price
NEW: From now on, the additional costs for pets will be included in the final price, provided that the pets are indicated by the guest in the price enquiry.
4. login at Ferienhausmiete.de
To log in to the closed landlord account, you must enter your customer number or e-mail address and your personal password. We need this data to protect against unauthorised access and misuse.
NEW: So that you don't have to search long for your login data in the future, we now provide you with two new social login options. Simply log in with your Google or Facebook account. The advantage: You don't have to remember loads of passwords and password difficulties are now a thing of the past.
💡 Our tip : To save even more time, add the login page to your bookmarks on the desktop or to your so-called "home screen" on the smartphone.
5. simply update the occupancy calendar
Maintaining the occupancy schedule is time-consuming, but indispensable. When presented on different websites, updating is a real time eater. A common practice to match vacancies is the automatic calendar synchronisation via an iCal interface.
Reduce your effort too by using iCal synchronisation. The first step is to set up a calendar with an iCal provider or use one from another portal. Google or iCloud, for example, come into question. Decide which calendar you want to use as the main calendar for maintaining your occupancies in the future.
❗ Important note: You can either import or export occupancy data with us. This means that you can either upload occupancy data to the calendar of your advertisement with us or download it from the calendar with us. Unfortunately, both importing and exporting is technically not possible.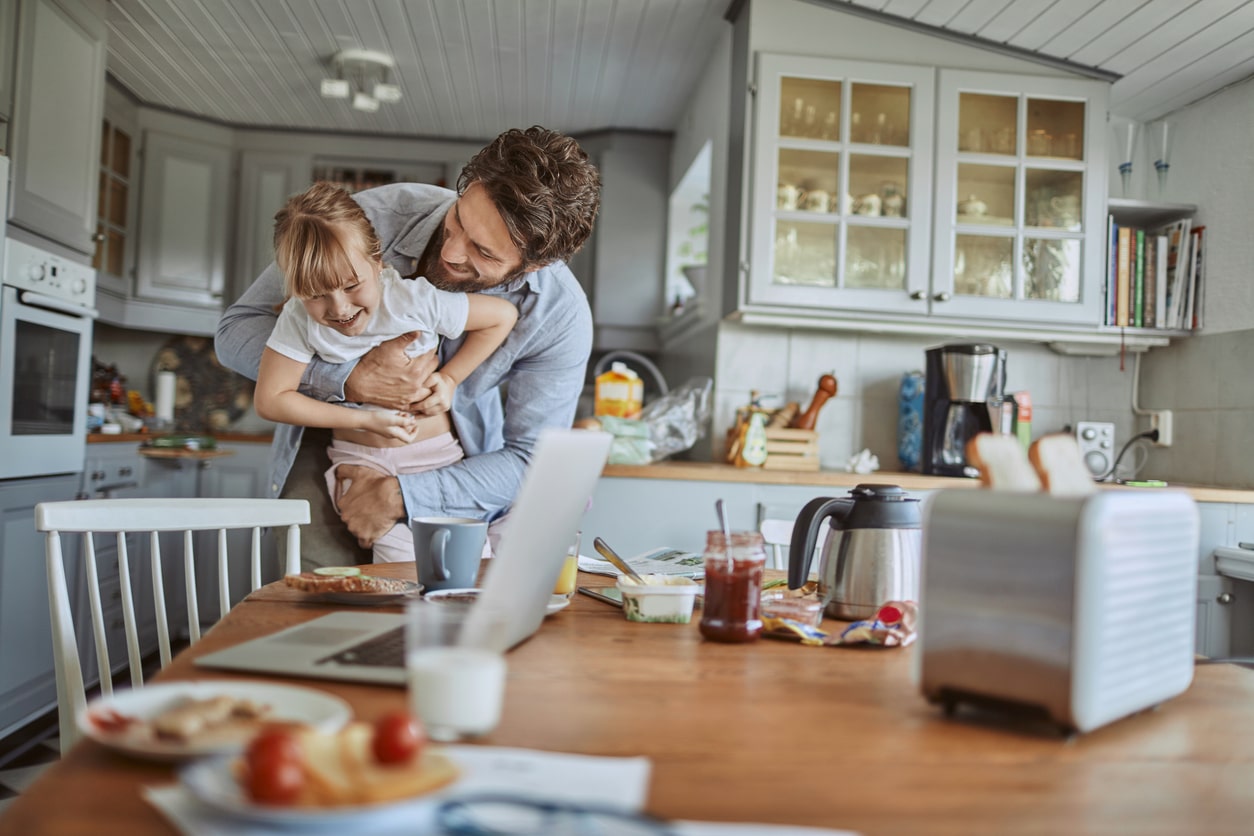 💡 Our tip: Always enter bookings in your main calendar in order to export the booking data from there to other portals. Otherwise, the information entered will be overwritten during the next synchronisation.
NEW: The iCal import and export is not a new function on our portal. What is new, however, is that you now have the option of inserting several iCal links from different portals under "Availability Calendar" > "iCal Import", thus ensuring a complete entry of bookings coming via other portals. This is a wish of many landlords, which we have gladly fulfilled.
How to do: To add an iCal link, click on the checkbox and add the iCal link. Then click on the "Add" button and then on "Synchronise".
6. request reviews
The authenticity of the customer reviews must be ensured.
NEW: We have created the following new option: You now have your own review link for your guests, via which the guest can submit a review on our portal. Every guest who has this link can then submit a review via this link. This applies regardless of whether he or she has also requested or booked the accommodation via our portal using the e-mail address that he or she provided when entering the review. Finally, it is also possible that the guest has booked by telephone. This means that it is now also possible for guests who may have already written a review on our portal a few years ago to rate it again when they stay again.
❗ Please note: You are required to send the link only to people who have been guests in your holiday home. Please take all necessary steps to prevent abuse and fake reviews.
How to do: If you want to send your link by e-mail, you will find it under "Reviews" in the "Request ratings". Simply copy the rating link and send it to your guests by e-mail.
7. use direct debit service
You can also save yourself effort when paying for your advertisement by using our direct debit service. You can deactivate the direct debit service at any time. Alternatively, you can choose between the following payment methods: Bank transfer, credit card, PayPal, Sofort, GiroPay, SEPA direct debit.
NEW: When renewing your advertisements, we now offer to renew them automatically and debit the advertisement fee from your account – without any further effort on your part.
How to do: Click on "Activate direct debit service" for the desired advertisement and enter your preferred payment method.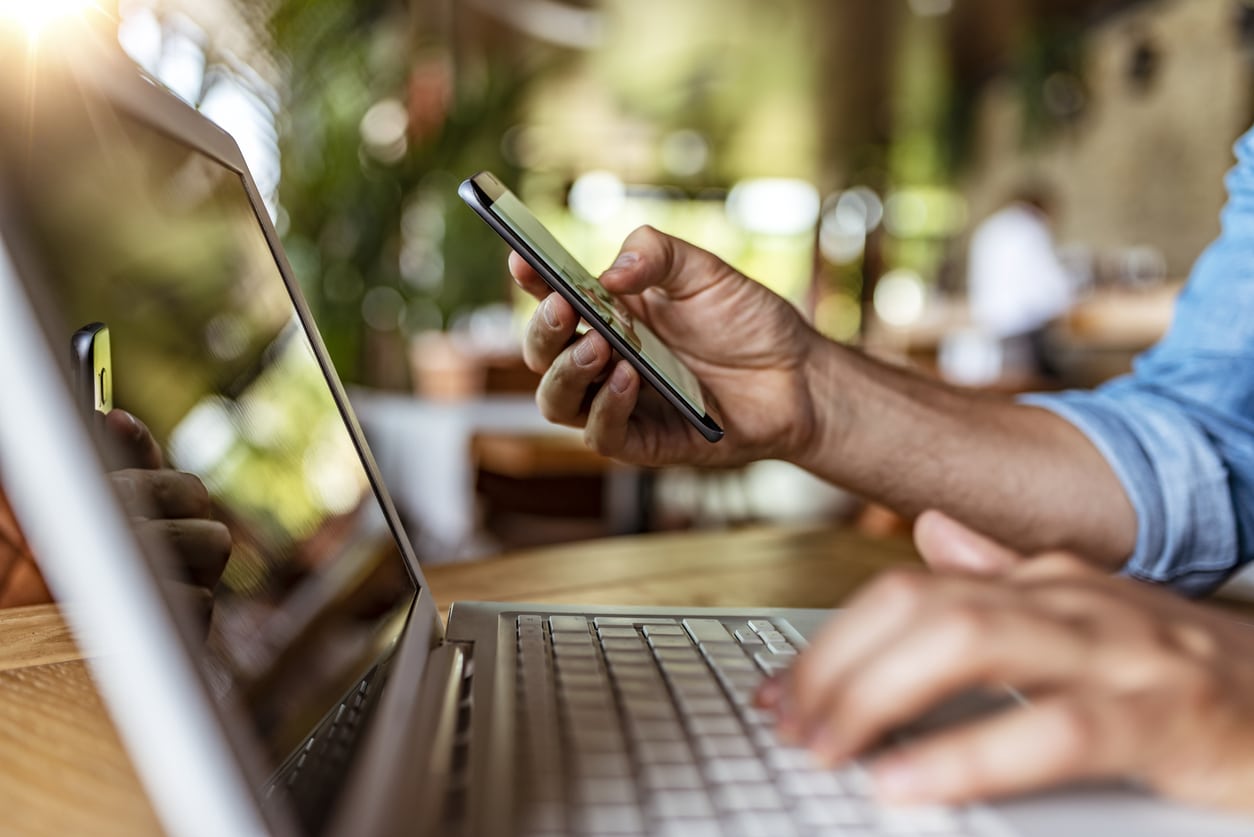 💡 Our tip: Also offer your guests different payment methods to pay the rental price to you.